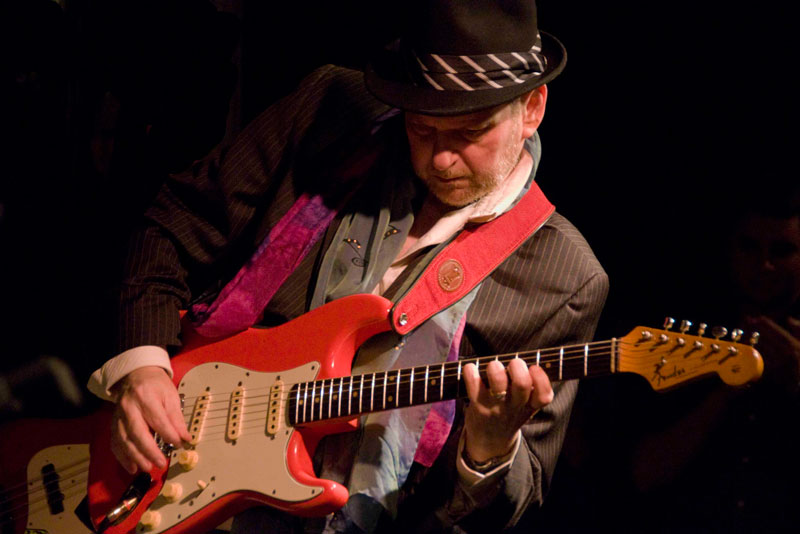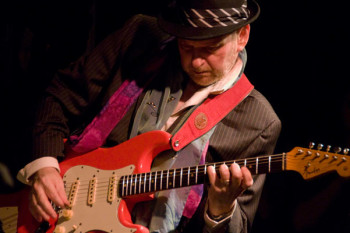 Worldwide
Ronnie Earl, Guitar
Legendary Blues guitarist Ronnie Earl is a three time Blues Music Award winner as Guitar Player of the Year, most recently receiving the award on May 8, 2014 in Memphis.  He has served as an Associate Professor of Guitar at Berklee College of Music, and has taught at the National Guitar summer workshop in Connecticut.
In 1995 Ronnie released Ronnie Earl: Blues Guitar with Soul, an instructional VHS tape that was then rereleased in DVD format in 2005. Earl's discography includes acclaimed albums on Stony Plain Records, Black Top, Bullseye Blues, Verve, and Telarc.  His 1996 Bullseye Blues release, Grateful Heart: Blues and Ballads, won Downbeat Magazine's Blues Album of the Year, and in 2004 Earl's Hey José won the Best Blues/R&B Song at the 3rd Annual Independent Music Awards.  In 2014, Ronnie Earl and the Broadcasters celebrated 26 years as a band. The last five releases by Ronnie Earl and the Broadcasters, Spread the Love (2010), Just for Today (2013), and Good News (2014), Father's Day (2015) and Maxwell Street (2016) all debuted on the top ten Billboard Blues charts and received wide critical acclaim.
Ronnie Earl has played alongside such legends as Hubert Sumlin, Earl King, Muddy Waters, Junior Wells, Kim Wilson and the Fabulous Thunderbirds, Jimmie Vaughan, Stevie Ray Vaughan, Carlos Santana, Eric Clapton, The Allman Brothers Band and many others, including, B.B. King, who said about Ronnie, "I feel the respect and affection for him that a father feels for his son. He is one of the most serious blues guitarists you can find today. He makes me proud."
The Broadcasters
Dave Limina, Hammond B3 and piano
Dave Limina is a Professor in the Piano Department at Berklee College of Music, where he received the Most Valuable Contribution to the Performance Curriculum Award in 2001 for his work in creating and developing the Hammond organ program.  As a keyboardist, composer, and arranger, Dave has performed with Gloria Estefan, Duke Robillard, Courage Brothers,  Mark Murphy, Lori McKenna, Mighty Sam McClain,  Kenny Neal, Catie Curtis, Freedy Johnston, Martha Reeves, Brooke Benton, Toy Caldwell, Felix Cavalieri, Steve Forbert, and The RB Funkestra with Fred Wesley and Eric Krasno. Also Grammy winning songwriters, Robert Lee Castleman, Gary Nicholson, Paula Cole, Mark Walker and Steve Leslie. He has been the keyboardist/conductor for the first national touring company of the Broadway musical Rent.  He received Boston Music Award nominations for his work with Courage Brothers, Ronnie Earl, and Mighty Sam McClain. He played keyboards on Michelle Willson's Wake Up Call, which was a Boston Music Awards winner in 2001 for "Best Blues Album".   He is the author of "Hammond Organ Complete" (Hal Leonard), and the instructional video/DVD "Accelerate Your Keyboard Playing" (Rittor Music).
Jim Mouradian, Bass
Jim Mouradian has been a member of Ronnie Earl and the Broadcasters since 2000.   Jimmy grew up immersed in a family of classically trained musicians, picked up a bass in junior high and has been playing ever since.   He is also a legendary luthier, who has designed his own line of Mouradian guitars, and handles every guitar he works on with meticulous detail. He and his son, Jon, operate Mouradian Guitar in Winchester, MA, where they are known as "guitar gods" and "guitar repair wizards," although Jimmy insists that his favorite role is that of being a dad and grandfather.
Diane Blue, Vocals
Boston's Diane Blue is a soul-stirring vocalist, skillful harmonica player and a crowd-pleasing entertainer. Ms. Blue is the first female member of Ronnie Earl and the Broadcasters, prominently featured on the band's albums since 2013, and has received rave reviews on her vocals and performance. Voted "Outstanding Female Singer" in The Blues Audience 2015 & 2011 Readers' Poll, Ms. Blue is a soulful and sassy performer with a strong and energetic delivery, serving up her own spin on soul, blues and R&B. She won the 2010 Massachusetts Blues Challenge, earning the honor of competing at the 2011 International Blues Challenge in Memphis, Tennessee. She was nominated "Best Blues/R&B Act" and "Best Female Vocalist" in 2007 by the Providence Phoenix and also nominated "Best Local Blues Act" by Motif Magazine in 2007. Diane has shared the stage with many greats including Luther "Guitar Jr." Johnson, Irma Thomas, Toni Lynn Washington and the late Big Jack Johnson of Clarksdale, Mississippi who called Diane a "monster on the harp.
Forrest Padgett, Drums
Forrest Padgett joined the Broadcasters August 2016.  Forrest is a highly regarded and respected drummer in the Boston area and we welcome him to the group!  Forrest has played drums professionally for over forty years, performing with such artists as The Radio Kings, Brain Templeton, Paul Rishell, Duke Robillard, Little Charlie Baty, Charlie Musselwhite, Luther Guitar Jr. Johnson, Lavern Baker, the Radio Kings, East of Eden, and more. He attended Crane School of Music in Potsdam, NY, and the Berklee College of Music in Boston. He graduated from Framingham State University with a B.A. in English.
For more information about Ronnie Earl & the Broadcasters see www.RonnieEarl.com